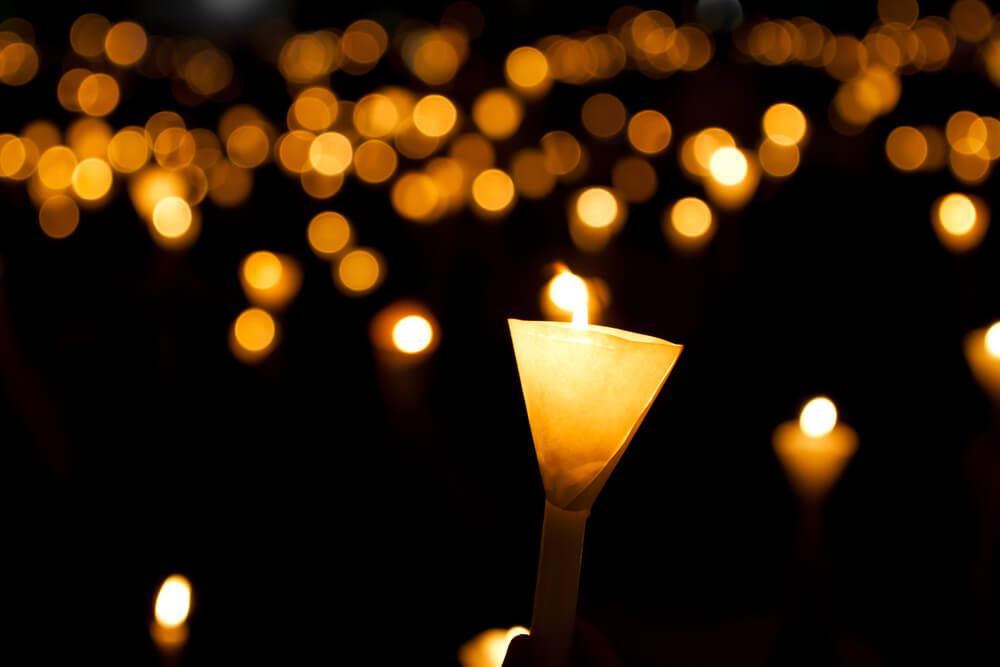 Photo by Dorason on Shutterstock
Not everything that is faced can be changed,  

but nothing can be changed unless it is faced.  

                                          
 
Standing in Tiananmen Square that autumn day in 1998, I marveled at its vastness. The few people populating its more than fifty-three acres seemed like ants on an enormous sidewalk. The square could hold many, many more. Multitudes. I closed my eyes and tried to imagine multitudes there, specifically the million protesters packed into those 4,736,121 square feet at the height of the 1989 pro-democracy movement.
Conjuring the protests, images of the movement's final hours flooded my mind— tanks, heavily armed soldiers, protestors desperate and defiant, their fervor steadfast despite the overwhelming threat of being shot or crushed, their inevitable fear.
Nine years after the June 4th massacre, which by some accounts left more than ten thousand people dead, nothing in the square, for all its immensity, acknowledged those lives. It was as if those students, parents, ordinary citizens hadn't been slaughtered, as if it never happened. The absence of recognition rang hollow inside me.
There was, however, and still is, a towering depiction of Mao Zedong on Tiananmen, the Gate of Heavenly Peace. Tiananmen, first built in 1420 during the Ming Dynasty and rebuilt many times since, separates the square from the Forbidden City, the centuries-old palace of emperors. Such irony, I thought, that Mao, an authoritarian despot, was still revered; another irony, once he had power, how little he differed from the imperial system he fought to overthrow. And there, his likeness on the Gate of Heavenly Peace.
Our young Chinese friend pointed toward it and said, "There is our great leader, Chairman Mao!"
Astonished that someone in his late twenties would speak with such enthusiasm about Mao, I asked, "You think he was a great leader?"
"Oh, yes," our friend said. "He is the father of our country."
There was much more I wanted to ask, but I knew how tricky such questions could be given the atmosphere of distrust and distress permeating that country. Only a few days earlier in Tai'an, Shandong Province, I'd asked to photograph a street cobbler, a man who sat on the sidewalk doing what he'd done his whole life. I held my camera up as a question, but the cobbler shook his head emphatically, and our older friend warned me off. He later told me that the authorities didn't want people to take such pictures because it made China look backward to the rest of the world.
Images, appearances, how much they matter. In service to appearances, the antidote to truth is denial—in equal or excessive measure. Not only is there no acknowledgement of lives lost in the Square, but I've read that the Tiananmen Massacre is the most sensitive and widely censored topic in China.
Truth, however, can emerge in unexpected places. In 1997, the Danish sculptor Jens Galschiot created the copper, twenty-six-feet tall Pillar of Shame to commemorate the massacre. Some describe the sculpture as fittingly nightmarish for what it remembers, with its images of bodies and faces contorted in pain.
In 1998, the Pillar, erected in Hong Kong's central Victoria Park, was moved to the University of Hong Kong by students. After that, every year on June 4th, crowds in the tens of thousands gathered to wash the statue and remember the victims. Then on June 4, 2021, under pressure from the Chinese government, the university suspended the vigils. Next, in the most recent attempt to erase any memory of the massacre, the government pressed the university to remove the Pillar altogether.
Jens Galschiot's website tells us that the sculpture's purpose is to remind and warn us that such a shameful event should never happen again. Galschiot notes that few countries have come to terms with their past, other than Germany, where teaching about and acknowledging the Holocaust is part of everyday life in memorials, schools, museums and other institutions. And, although there are those who reject this emphasis on truth, the government is fully committed to it. They do not want another Holocaust.
And where, I increasingly must wonder, do we in the United States stand in acknowledging our past? Not in a very good place if we consider, among numerous other instances—including the near genocide of Indigenous Peoples—the recent backlash to the 1619 Project. This Project, proposed to The New York Times by staff writer Nikole Hannah-Jones, was to commemorate the 400th anniversary of the first enslaved Africans brought, in chains, to what would become the U.S. and to examine the subsequent instrumentality of slavery in this country's development. It also aspired to look at the profound impact of slaves and their free descendants on the character and culture of this country. *
The Project first appeared as a special issue of The New York Times Magazine, along with a special section in the broadsheet and a series of podcasts. Two years later, in 2021, the book, titled The 1619 Project: A New Origin Story, was published.
Initially, those special sections were overwhelmingly popular, selling out almost immediately. Nikole Hannah-Jones' opening essay won the Pulitzer Prize for Commentary. The Pulitzer Center, unrelated to the Pulitzer Prize, created educational materials based on the Project to supplement standard social studies curricula. These were highly valued and used by thousands of educators across the entire U.S.
And the backlash came. Arkansas Senator Tom Cotton introduced the Saving American History Act, to "prohibit federal funds from being made available to teach the 1619 Project" in schools. This is the same senator who, in a fact-deprived column in the June 3, 2020, issue of The New York Times Opinion section, called for "an overwhelming show of force" to subdue the protests that erupted after the killing of George Floyd.
Although Cotton's bill didn't gain traction, it did inspire other such efforts, including former President Trump's 1776 Commission. Trump called the 1619 Project "toxic propaganda" and called for "patriotic education," despite the fact that the federal government has no say in school curricula. The eighteen-member 1776 Commission issued its report on Martin Luther King Day, January 18, 2021, less than a month after Trump publicly announced its members, none of whom was a professional historian.
But professional historian and author of Messengers of the Right: Conservative Media and the Transformation of American Politics, Nicole Hemmer told the New York Times that "the underlying argument [of the Commission], that multiculturalism and liberation movements are fundamentally dangerous and un-American, has been a hallmark of conservative politics since at least the 1990s."
This rings true in my experience. My work in education, particularly during the mid-1980s through the early 2000s, focused on equity and social justice. The organization with which I worked developed several initiatives promoting diversity in teaching and teacher education, multi-cultural education, and gender equity. And in the latter part of those years, I led review teams for state accreditation for several universities in Colorado. The review teams consisted of higher education and public-school educators, and at least one community member. One team's community member was the spouse of a state official aligned with the anti-multicultural education movement. When, because of her obvious bias, I assigned her to review areas not related to multicultural education, she inserted herself into those groups anyway. And I was removed from leading any subsequent teams.
For several years after, a chilling effect hovered over teaching inclusionary curricula in higher education and public schools. Though far less dramatic and damaging than the erasure of the Tiananmen Square Massacre, the attempt to suppress or erase the role of whole groups of people had an effect.
The strength of these efforts ebb and flow. These days we seem to be in a "flow" stage. Another current attempt to deny history has to do with the distortion and disinformation associated with Critical Race Theory (CRT). Developed by legal scholars several decades ago and used in law schools as a way to interrogate legal issues, CRT raises questions about the effects of racism, race, and power. The theory now has been taken over by the far right to further stoke racial fear and division. Their propaganda machine claims that CRT is being taught in public schools and aims to induce guilt in white children and youth. In reality, this disinformation campaign is yet another effort to whitewash history.
Replacement theory, sometimes called the Great Replacement Theory, underlies many racist conspiracy theories. It claims that nonwhite people are trying to replace whites through higher birth rates. Such was a motivator in the 2019 New Zealand massacre in a Muslim mosque, where the murderer had earlier released a document repeating, "It's the birthrates," three times. Echoes of this war cry resounded in the 2017 Charlottesville demonstration, where white supremacists carrying torches shouted, "You will not replace us." Not only is this conspiracy theory outright threatening to nonwhite people, it subjugates women, claiming that white women who work are failing at their central purpose—producing children.
Yes, we have made progress. Women make up forty-seven percent of the workforce. We no longer have legislated segregation. Our forty-fourth president was Black. The current Secretary of the Interior is Native American. LGBT people can be acknowledged and have rights. But we have far to go.
On average, women still earn less than male counterparts. Police killings of Black people remain extraordinarily high. Far too many nonwhites live in poverty. Black and Native Americans have been disproportionately affected by the pandemic. Red states are rolling back voting rights. As Clint Smith says in How the Word is Passed, "I do not yet have all the words to discuss a crime that is still unfolding."
It's precisely how the word is passed that feeds the continual unfolding of the crime. Smith writes of his grandmother's experiences in the Jim Crow south, where I also grew up, of her dread in walking by a school bus of full white children, because she knew those children would sling epithets and food at her. "These children were not born to hate this way," he writes. "They had been taught. They had watched their parents and they had watched the world, and this is what they had been shown."
Since the handover of Hong Kong in 1997, the world has watched as China has gradually eroded the treaty agreement with the United Kingdom. That agreement, in China's terms "one country, two systems," called for Hong Kong to remain semi-democratic and a capitalist economy for five decades. Not even two decades had passed before Beijing began closing in to prescribe candidates for the chief executive election. Then came a stringent security law criminalizing anything Beijing decides to interpret as criminal, particularly subversion or collusion with foreign forces. Now education, the press, and local elections have all been overtaken by Beijing, while numerous citizens—students, politicians, media professionals, judges and others have been imprisoned, some for simply chanting slogans or attending a vigil.
On December 28, 2021, national security police raided Stand News, the last pro-democracy news outlet, and arrested six people for "conspiracy to publish seditious publications." Subsequently, the paper announced that it would close. If there is no free press, there is no criticism.
Less than a week before, on December 23, 2021, while students were away on Christmas break, authorities in Hong Kong dismantled the Pillar and removed it from the University. At two other Hong Kong universities, "The Goddess of Democracy," a monument students erected during their occupation of Tiananmen Square, and a relief sculpture depicting events of the crackdown, also disappeared. But erasing evidence, hiding those reminders won't change the truth, just as denying the horrendous aspects of our own history won't change what happened.
Hiding from truth serves no one well. The antidote to hiding, to hate, is truth. Germany's acknowledging the Holocaust offers a hopeful example. Yet, as James Baldwin said, facing our past—and our present—may not change it. But we know it will not change until we do.
* "The 1619 Project and the Long Battle Over U.S. History, NYT Magazine, Nov. 9, 2021