My Apple
My apple, want a bite?
Let it roll down my
Hilly green lawn,
Who knows where it may stop?
With all the other
Fallen ones… feasibly rotten
Otherwise
In Saxony, 1508,
Where Lucas Cranach's
Eve,
Stands, unrepentant
Venus Pudica,
Shame separating her
From her Luther loving Adam
Already absolved from sin
By the tree,
Yes, that one
You see in my selfie,
Edmonton, 2017
Who knows where it may stop?
Between two realms,
Warped wood boards
Where warped old Cranach
Still plays God
His Adam pointing right,
Frenzied gaze trespassing
The bark of the apple tree, to reach for Her
And her breasts, already rotten, hilly,
On the other side of knowledge,
Wary of the snake
Who coolly eyes their turmoil
As that of others
That will bite
From yet another apple
Who knows where it may stop?
Our state cannot be severed; we are one,
Said Milton, once…
My apple, want a bite?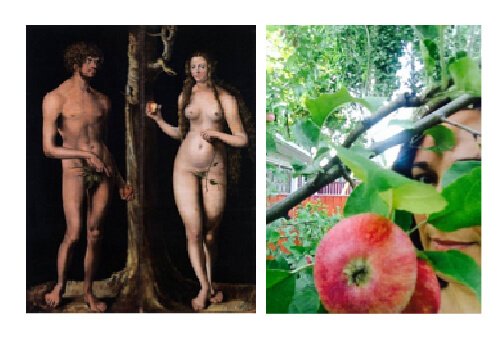 Volcanoes in Antarctica
We never knew they existed
Until now,
Volcanoes,
Tall as Mount Eiger,
Furrowed memories
Buried kilometers deep
Under the ice
They lie
Erupting perhaps tomorrow or today
Or in two hundred years
Unsettling
Time
Counted in dismembered ice sheets
Memories?
Deep inside
West Antarctica,
Where stoic Sea star
Odontaster validus,
Of McMurdo Sound,
Female,
Awaits
To inescapably birth,
Pink dorsal plate opening,
Volcanic,
Gushing
Amniotic
Antarctic water
Furrowed memories,
Two hundred years old
Expel sailors
Cocooned in healing lava,
Gliding by the route Sir John Cook
Traced on sea foam
Of ultramarine blue
Frigid waters,
Clipper routes, carved between glaciers
Sped up travel from West to East,
Knowing sailing East to West
Was impossible
As volcanoes
In Antarctica
Garden
My garden is a map of my brain,
Cobalt, cadmium, coral, kidney shaped
Axons and dendrites
Trespassing, dismantling, each other
Without my blessing
Yet,
My neighbors, locust pest,
Ancient plague,
Admire, complimenting, even
"Its creative layout, its helter-skelter beauty"
My garden is a map of my brain,
And I hate weeding,
Who doesn't?